SAGE-ING
with Creative Spirit, Grace & Gratitude
||
The Journal of Creative Aging
---
We hope you feel moved to share your story with the Journal and help us spread our message of creative well being for individuals and their communities. Download our Submission Guidelines
HERE
---
Current Issue, Number 46, Fall 2023: click on the cover to view the Contents, and to view/download a PDF.
---
Previous Issues: click on the covers below to view the Contents of each issue, and to view/download a PDF.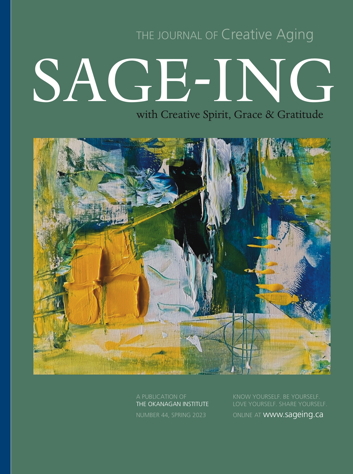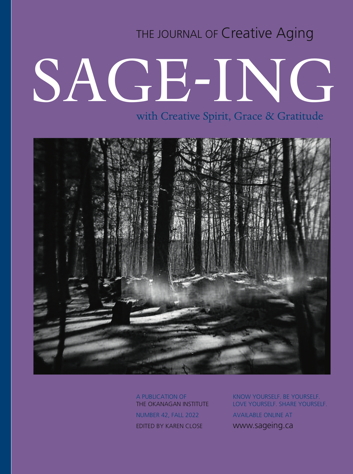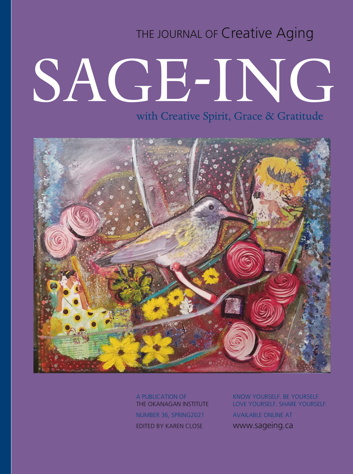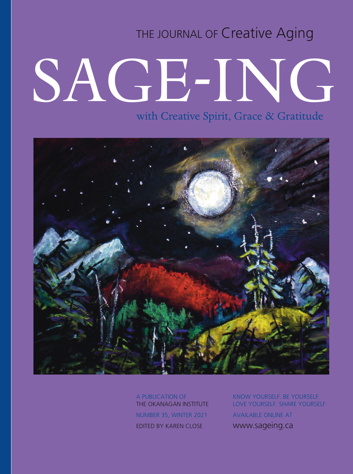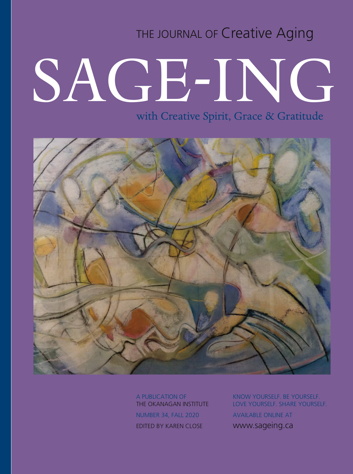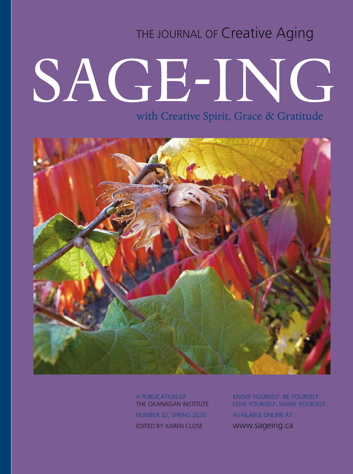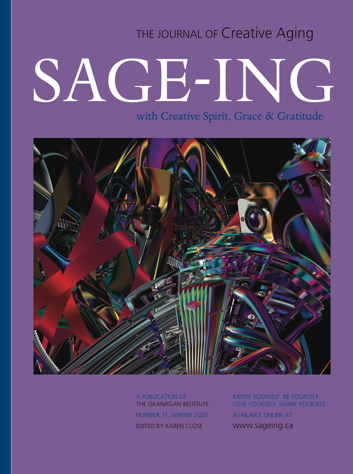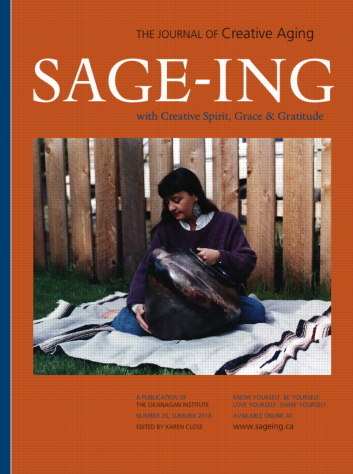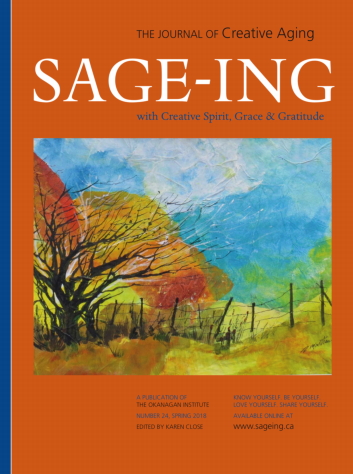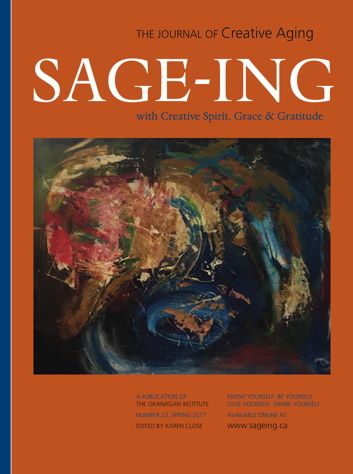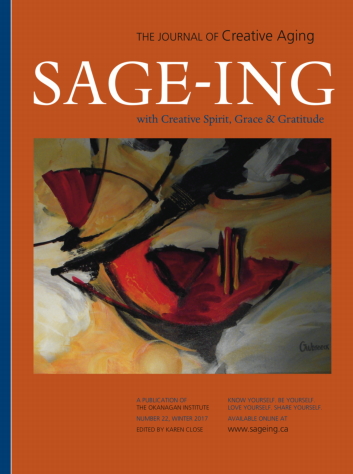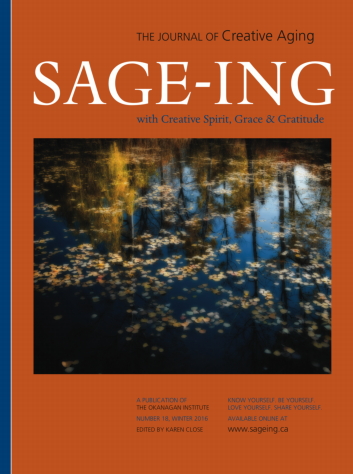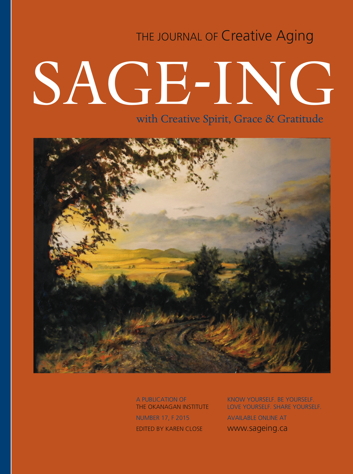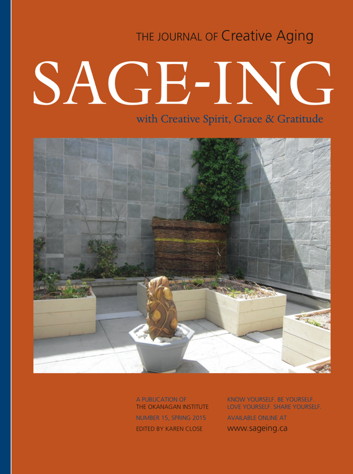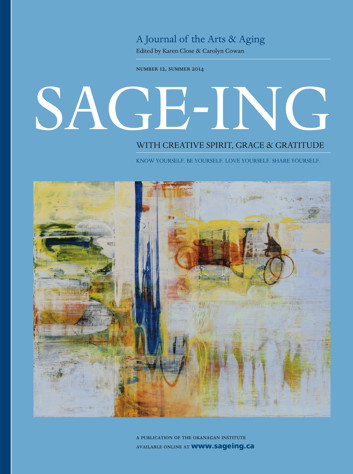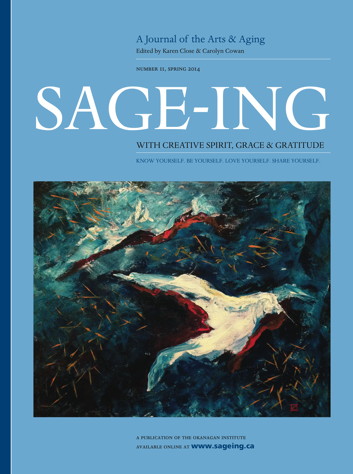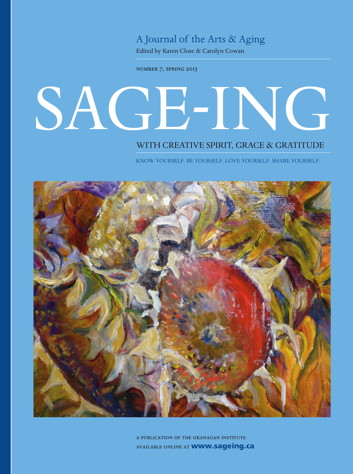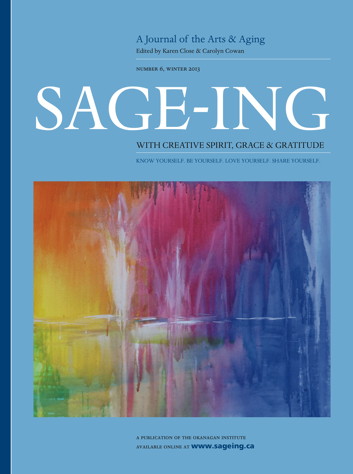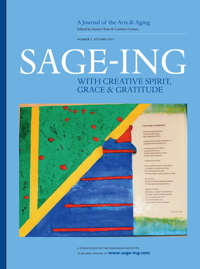 ---
THE JOURNAL
This journal is about you, and the possibility of you creating the next chapter in the book of your life.
You're familiar with how the other chapters worked: early, childhood, teenage, tempest, tragedy, trial, temptation, partnering, breaking, birthing, making, solving, earning, learning, building, growing, mentoring, celebrating, wising up, and ending up here after all that.
The road of life goes on from where you now find yourself, you're still on it, and the vistas that open before you promise more and maybe better rewards, but only if you engage in the possibilities.
You now get to decide if this next chapter will be a rich and fulfilling one for you, or only the last.

Rather than fading into that good night, might we offer an alternative? Creative aging is a powerful social and cultural movement that has stirred the imaginations of many communities and people. Also referred to as sage-ing, creative aging takes many forms, and elevates people in many ways.
Most importantly, creative aging encourages and facilitates individual and collective creative pursuits, including writing, crafting, painting, dancing, and an almost unlimited number of other ways to express your creative energy.
It encourages you to find your inner artist, to discover the opportunity to celebrate and elevate, to make the most of the wisdom you've accumulated through the lessons of your life. It pleads for you to speak the truths you've learned, to share your wisdom, to be wise, to sage.

Creative aging helps you discover the source of wellness, which is in your spirit, your will to be, to be well, to share your gift, to explore, to create, to be whole.
Creative aging encourages you to engage with your inner life, to experience the grace of knowledge, to express gratitude for your gifts, and to share them with others on the same journey. By doing so, you open the door to the creative person that lives inside you, the insights you possess, the lessons you can learn through your experience, the discoveries you can share with fellow creators, and the wisdom you can gift to future generations.

Sage-ing: The Journal of Creative Aging exists to help you document your creative pursuits with care and integrity, to honour your truth. It's time for you to join us. Tell your story, make your next chapter.
---
Home
||
Subscribe
||
Email Us
||
Submissions
||
A publication of the Okanagan Institute
---
KNOW YOURSELF. BE YOURSELF. LOVE YOURSELF. SHARE YOURSELF.